Fugen Biomed is an emerging supplier of diagnostic systems and reagents. Founded by insightful Healthcare industry professionals, of more than decades of high performance senior level experience with professional expertise gained in renowned domestic and multinational organisations.
We offer an extensive yet focused range of In Vitro Diagnostic reagents and systems by forging ties with business partners all over the world. We aim to contribute to medical treatment by providing products with exceptional reliability so that caregivers can make decisions with confidence, make available cost effective products and services so that it reaches to as many people in need as possible and introducing advanced cutting-edge products and services that meet ever broadening clinical needs of our customer.
We believe that our customers are our biggest assets and hence all our actions are customer centric. Our customers in India are based in government and private Laboratories, hospitals, blood banks, clinics, clinical laboratories and CRO's. Our sales force and business associates serves customers with a high level of technical expertise. We love to hear feedback and suggestions from our customers as without their contribution it is not possible to achieve next level of success.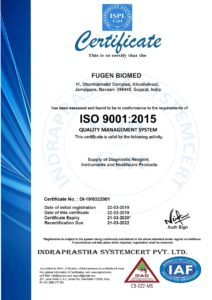 We are expanding nationwide network of marketing and after sales services. Our sales organisation enables us to maintain close contact with our customers. We are capable of smoothly introducing products in Indian market and confident of gaining respectable market share. We welcome global manufacturers to share our nationwide network to reach Indian market of 1.2 billion people.
We understand that our team members are most important for achieving customer satisfaction. We involve our employees in development of the company and value their opinion. We make all possible efforts to make our team members comfortable in their work and work environment.