MAST Optigen Allergy System
Advantages
Detection of multiple allergens in single test device (panel format) offers unmatched cost effectiveness and convenience.
Allergens used are well-characterized and standardized, enhance accuracy of final results
Rapid test procedure, which shortens the therapeutic turn-around time
Simple and user friendly procedures, decreases dependability on skilled manpower
Test panel designed with computerized algorithm for fluid dynamic, reduce sample requirement more than 30 allergens, maximizes patient comfort during diagnostic process.
---
OPTIGEN® PETTE
The fundamental component of the system is a pette, a small plastic device contains a Polystyrene Solid Phase, integrated lenslet and arrays of micro wells for exposure of patient serum to more than 30 different allergens as well as internal positive and negative control, all using a single blood sample.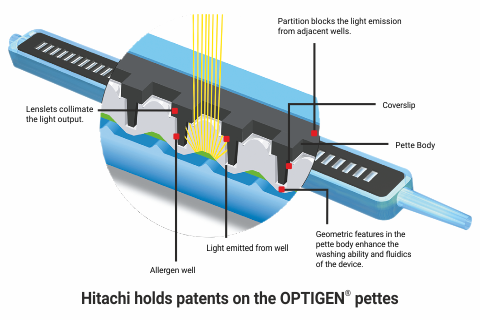 Advantages
Simultaneously measure more than 30 different allergens using single serum sample
Designed with computerized fluid dynamic model which facilitate uniform binding of serum IgE to specific allergens
Consists of three injected molded parts; Pette body, cover slip and a partition which ensures maximum calumniation of light to achieve high sensitivity and reliability of results
Requires very low sample volume of 500 µL
---
Chemiluminescence Assay
Principle
Allergen specific IgE antibody present in the serum binds to allergen coated well, when exposed to different allergens in test chamber (pette), which further bind with anti-IgE conjugate. In next step, photoreagent mixture (Luminol) combines with it and gives off a chemically generated light (i.e. Chemiluminescence). The amount of light liberated is directly proportional to the amount of allergen specific  IgE in sample. In between washing steps, minimize non-specific reactions and ensures accuracy of results.
Advantages
High analytical sensitivity and good linearity
Superior performance in the detection of low concentration of specific IgE
Broad analytical range
Cost effective
---
CLA-1™ Luminometer
Measures the amount of chemiluminescent  light emitted by each allergen well coated with individual allergen.
Advantages
Compact bench top design
Can read up to five panels or 180 allergens, in less than ten minutes
Inbuilt printer prints a complete report that lists the tested allergen and the severity of the patient response to each allergen
Simple and user friendly operation
Low maintenance
FDA-cleared and CE-marked, it has shown consistent, reliable performance in laboratories around the world
---
Work station
Manual
Work station includes pette rack for incubation, waste reservoir, wash buffer container and dispenser pump. These accessories provide complete platform to carry out the entire assay procedure.
Features
Washing of test device with dispenser pump maintains uniform pressure which completely removes the unbound antibodies, ensures accuracy of results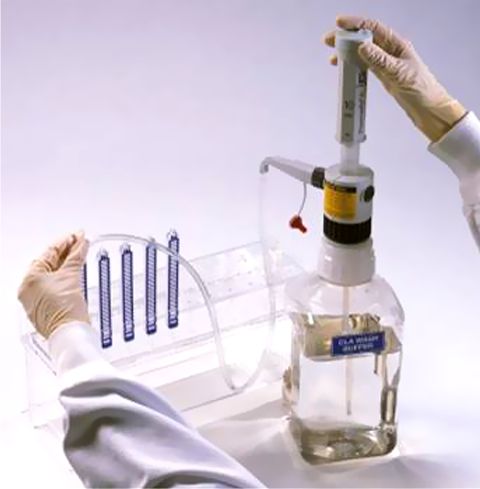 ---
Automated: Hitachi AP 720S
for high workload laboratories
20 Test position, process up to 720 allergens / run
Easy to use with touch screen operation
Removes most operator-critical steps
---
Hitachi Quality
OPTIGEN® allergy test ensures reliability of final results by maintaining quality checks at various level.
Quality of Allergen
Hitachi Chemical Diagnostics uses characterized and standardized allergens, which minimizes discrepancies in the results seen between different in-vitro disgnostic methods and skin testing as well as ensuring a high reliability and consistency of results
Pette and Reagents
Procedure control (positive control) and negative blanking (negative control) wells in each pette ensures the accurate performance of assay
CLA-1 Luminometer
Automatic self diagnosis, at the time of power on to ensure electronic mechanism functionality
External electronic control cassette is provided with each system to check performance of detection system